past events
Ice Bowl - 2006 - go!
Lizard Range Tournament - 2005 - go!
---
Ice Bowl - February 18th, 2006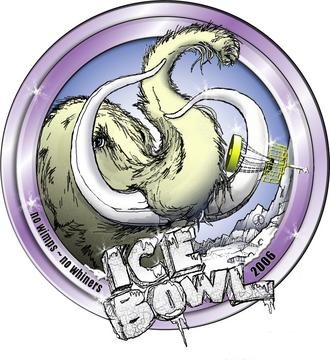 Ice Bowl results available at Kamloops Disc Golf Club Website:
http://www.kdgc.com/ICeBowl2006_Final.htm
Ice Bowl is a worldwide fundraiser event, which has been held annually by the Disc Golf community since 1987. The Ice Bowl is for all disc golfers gutsy, crazy, desperate or fun-loving enough to join together in an act of disc golf solidarity around the world. Regardless of weather conditions, the idea is to have fun, raise funds and food for local charities and food banks, and dispel the gloom of winter.
There are three mandatory Ice Bowl rules:
Under no circumstances may an Ice Bowl be cancelled or postponed because of weather conditions
No wimps and no whiners allowed
There are no excuses for not attending (either be there or be a wimp).
Last year saw 7,028 players participating at 183 events raising $128,036 and collecting 23,239 pounds of food, as well as the introduction of the Great Canadian Ice Bowl Challenge (GCIBC). What started as an innocent email between two provincial PDGA Coordinators became a 12 Canadian city challenge - the First Annual GCIBC 2005.
On behalf of the Fernie disc golf community, the city of Fernie has been registered to participate in the 2006 GCIBC, which will be held on Feb. 18th 2006 in James White Park. Fundraising will commence immediately for Canadian Avalanche Rescue Dog Association (CARDA) as well as our local food bank.
CARDA was founded in 1978, and is an organization dedicated to saving the lives of avalanche victims. Made up of volunteers who have passed an intensive training program, CARDA strives to maintain a network of efficient avalanche search and rescue dog teams in Canada. The training program was initially patterned after the German Berghwacht dog program. A certification Standard was developed in conjunction with the RCMP, Parks Canada, and the Provincial Emergency Program of BC. To read more on CARDA, it's volunteers, certified dogs as well as dogs in training, please visit the CARDA web site; www.carda.bc.ca.
For more information on the event or on how to participate/donate, please contact:
Serge Gosselin
250-423-7922
banffcartel@hotmail.com

ICE BOWL POSTER - click to download (229kb - .jpeg)
Lizard Range Tournament - 2005
The 2nd Annual Lizard Range Tournament was held on September 3rd, 2005. We had an amazing turn out with 37 players playing in 5 divisions. With the co-operation of the weather, and the support from all the local businesses, all had a wonderful day of disc golf.
A special thanks goes out to all the businesses that supported the tournament with their generous contributions.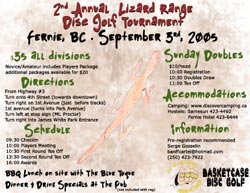 view tournament poster
(05poster.pdf - 444kb)

view tournament phamplet
(05phamplet.pdf - 209kb)